4 September 2019
Portable Landscapes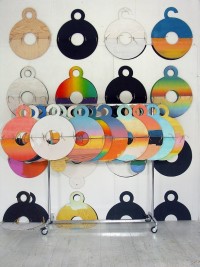 EXHIBITION OF LATVIAN EXILE AND ÉMIGRÉ ARTISTS PORTABLE LANDSCAPES OPENS IN RIGA
LARGE EXHIBITION HALL OF THE LATVIAN NATIONAL MUSEUM OF ART
27.04.18 – 17.06.18
On 27 April, the Latvian Centre for Contemporary Art will open an exhibition Portable Landscapes, dedicated to the centennial of the Republic of Latvia, at the Latvian National Museum of Art. It follows yarns, which, through various corners of the world, take us to the stories of several creative, often relatively unknown Latvian émigré and exile personalities and informal groups, placing them in a broader context of art events, migration and globalization and revealing them as a polyphonic landscape.
"If we take a longer look back, people's migrations caused by wars or political and economic change have taken place ceaselessly. Exile, diaspora and migration are characteristic elements of global culture and their manifestations have not only determined changes in the world's map but also contributed to the basis for the development of various trends in art and culture, promoting the blending and overlapping of cultures and the birth of new ideas and movements," believe the curators of the exhibition Solvita Krese, Inga Lāce, Diāna Popova, Antra Priede-Krievkalne, and Andra Silapētere.
In addition to historical stories, which will be revealed with the help of archives, works of art and artefacts, the exhibition has welcomed contemporary Latvian artists who live and work abroad, as well as artists who have addressed the theme of migration or, with their interpretations, are adding to some of the narratives developed in it.
Portable Landscapes explores Paris, New York, West Berlin, Gotland and Montreal as places relevant to the Latvian diaspora, tracing the individual routes of migration and developing a way of looking at the current situation, which, to a great extent, is based in historical events.
Involving a wide range of Latvian and international art institutions, researchers, curators and artists, LLMC has developed a project, launched in 2017 and lasting till 2019, that consists of four satellite exhibitions in Paris, New York, Gotland and Berlin, with the central exhibition, Portal Landscapes, at the National Museum of Art held in Riga and open until 17 June.
Participating artists: Valdis Āboliņš, Ieva Balode, Aia Bertrand, Eugenijus Budrys, Daina Dagnija, Raymond Duncan, Ieva Epnere, Inga Erdmane, Barbara Gaile, Daiga Grantiņa, Enno Hallek, Mikko Hintz & Inga Meldere, David Holmert, Marija Induse-Muceniece, Ingela Johansson, Rolands Kaņeps, Ernests Kļaviņš, Leonards Laganovskis, Marcos Lutyens, Kristina Norman, Mai-Thu Perret, Karol Radziszewski, Bita Razavi, Elske Rosenfeld, Andrejs Strokins, Laris Strunke, Niklāvs Strunke, Sergejs Timofejevs (Orbīta) & Ilva Kļaviņa, Viktors Timofejevs, Žanis Valdheims, Sigurds Vīdzirkste, Artūrs Virtmanis, Margo Zālīte, Aleksandrs Zapoļs & Vladimirs Svetlovs (Orbīta).
Supported by the Ministry of Culture of the Republic of Latvia, State Cultural Capital Fund, British Council Latvia, Frame Contemporary Art Finland, Rīgas Dome, Filips Kļaviņš, "Pro Helvetia", Embassy of Canada to Latvia, The Nordic Council of Ministers' Office in Latvia, Iaspis Swedish Arts Grants Committee's international programme for Visual and Applied Artists, The United States Embassy in Latvia, Goethe-Institut Riga, "M un Brilliant® Reflective", Estonian Embassy in Latvia, Embassy of Sweden Riga, "Festivāls Sansusī", The Ministry of Foreign Affairs of Latvia, The Ministry of Foreign Affairs of Lithuania, Nordic Culture Point – Nordisk Kulturkontakt, "VKN", "Valmiermuiža"un Z/S "Smilškalni"