3 September 2020
Frail Liberation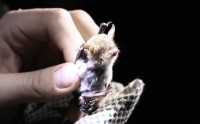 Photo: Jani Ruscica, two channel video installation "Batbox/Beatbox" 2007.
Born of unveiled global racism and amid the turmoil of an ongoing pandemic, an exhibition takes its name from Durban-born singer-songwriter Chris Letcher: "Frail Liberation. It makes no more sound than a closing eye." The exhibition draws on the sensitivity of a group artist from around the world – confined to the physical space of a farm and a kunsthalle in Sweden.
By inviting artist and designer Nkuli Mlangeni Berg, exhibiting artist in our last exhibition "Mancoba – An Artist and his Legacy" to stay with Södertälje konsthall and develop a work that addresses current conditions, we hope to be seeing more of how textile works might shift our perceptions.
Textile, in itself an ancient material but under current scrutiny as it also represents an industry that is often hugely taxing on environments and nature, and an industry that continues to exploit labourers worldwide, serves as the material for Nkuli Mlangeni Berg. In the summer of 2020 she ventures to grapple conceptually with society's nightmares, through screen printing onto fabric.
Some artists, highly sensitive and critical, seem to have the ability to touch upon events even before they appear. Jani Ruscica made the two channel video installation "Batbox/Beatbox" in 2007, yet there is no artwork that can be more current in a reading on our current times and conditions. The first part of the video follows bats and an expert on their sound and movement, the second part roams the streets of New York as musicians and poets mimic the sound of these animals. Bats, wrapped in saga and superstition, are also known to be the animals most likely to have transferred the Covid-19 virus from the animal kingdom to humans.
Man was born out of clay, according to many myths. Rami Khoury brings his material alive, in a growing installation that was started on the island of Öland and continues in the art space of Södertälje konsthall. Working with both white clay and black, faces appear and harden from the soft material into fire. A house has fourty windows but no doors and Rami has made contrasting houses in both the dark and light clay. The growing installation of pots of clay that carries both artistic and functional aspects are open and accessible to anyone that would like to use them.
Ingela Johansson, scheduled to open her solo exhibition in Södertälje konsthall in November, is invited with a prologue to her exhibition. Exhibiting a mask that alludes to both children's play and the mystical sides of life, a story that will continue to unfold gets its invitational.
Welcome to Frail Liberation, opening September 3, Södertälje konsthall
Photos: Stills from Jani Ruscica, two channel video installation "Batbox/Beatbox" 2007.