21 November 2020
Luleåbiennalen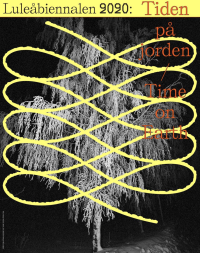 Luleå Biennial 2020:
Time on Earth
21.11.2020~14.2.2020
The Luleå Biennial stretches across the vast region of Norrbotten. Budding into the arctic circle at Sweden's border to Finland, the region – with its heavy industries, mining landscapes, high-tech research centers, unique nature and the historical homeland of the Sami people, Sapmi – plays host to one of the world's northernmost art events. This time, the biennial will take place in Luleå, Boden, Malmberget, Storforsen, Arjeplog and Korpilombolo – in an evacuated school, in a church, at a silver museum, at art centers, in a former prison and at Norrbotten's Regional Museum.
The Luleå Biennial is an international biennial for contemporary art where global and hyper-local perspectives come together in site-specific installations. Alongside of numerous exhibitions, the 2020 edition will also include a touring literature program, theatre, radio and an online journal. The 2020 Luleå Biennial grapples with the question of what "realism" could mean today both as a concept, expression and paradigm. Through their works, the invited artists tell of realities related to society as a system – bureaucracy and logics of mass media and industrial infrastructure – but they also break into, challenge and topple these reigning arrangements; through strikes, the psyche, theatre, magic and, not least, art itself. Realism emerged as an art historical concept in the second half of the 19th century and remained prominent into the first half of the 20th. This multifarious project grew out of a general interest in portraying society as it actually appeared in all its roughness and mundanity and injustice. On the one hand, realism pro-posed a set of aesthetic conventions, but more than that it meant the introduction of a new world of motifs to art. The realistic project was initially led by an intellectual bourgeoisie, but would since come to involve art and literature in which the working class asserted itself as both topic and agent. With its more blatant political edge, this later period is often referred to as social realism or socialist realism.
When we choose to look back on the tradition of realism and place it in our degenerating contemporary time, it is without a sense of obligation towards history. What we are revisiting is the artistic ambition to make the world appear whole. In such a practice there is both courage and madness; an act of inhibition that requires you to engage with the impossible and forge together the splinters of a broken world in order to make sense of it. On the small and large scale, the artists in the biennial present their own perspectives on how to organize the world.
In collaboration with Sweden's Public Art Agency and the curator Edi Muka, the biennial presents Woven Songs, a series of existing and newly commissioned works that are integrated into the exhibitions or appear in public spaces in Norrbotten. This exhibition within the exhibition questions something as immediate as the earth and how we live our lives on
it. This earth that accommodates at once a profane and magical symbolism, and figures a material ground for both sanctity, life and death, all directly beneath our feet.
The Luleå Biennial constructs a kind of realism that often moves far away from an illustrative or documentary tradition. Rather the works tend to present reality as a theater: staged, alienated, longed for and, in many cases, completely absurd. Perhaps these spectacles can help us reconsider the meaning of realism and our actual agency, in relation not only to the -ism but to reality as such – during our time on earth.
Karin Bähler Lavér, Emily Fahlén and Asrin Haidari,
curators Luleå biennial 2020