Segern kan vi bara nå med att vakta och vakta, Gerlesborgs Konsthall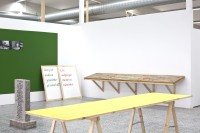 Photo: Mette Muhli
Gerlesborgs Konsthall, 2017
"The victory, we can only achieve with guarding and guarding"
Documents and stories were being processed about the Swedish environmental movement in a multi layered installation at Gerlesborgsskolan, a preparatory art school. The story of "Save Kynnefjäll" was represented in particular. The resistance of the nuclear fuel disposal at the nearby mountain Kynnefjäll lasted almost 20 years and became a viable popular movement.
In the centre of the exhibition were excerpts from a selection of diary notes from the environmental and activist group Save Kynnefjäll (1980-1985). Posters were echoing and duplicating messages from the notes and the handwriting was appropriated from archive material. A copy of the stone monument that were placed by students outside the watch cabin at the mountain in solidarity with the movement with inscriptions, was copied by the artist Ivan Stüffe for the exhibition and as a permanent sculpture. With the replica I wanted to symbolically bring the stone back to the school context to highlight the connection with the environmental community, the classes in permaculture, land art and workshops with engineers at Chalmers University in Göteborg that was once held at the school.
Screening of the film Eternal Scar, Evigt ärr, 78 min.
Graphic form Kristoffer Larberg.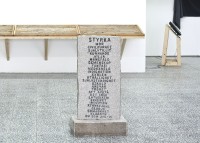 Photo: Mette Muhli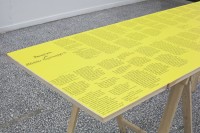 Photo: Mette Muhli
Photo: Mette Muhli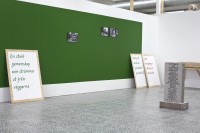 Photo: Mette Muhli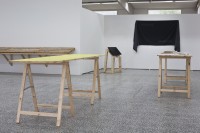 Photo: Mette Muhli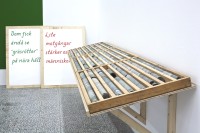 Photo: Mette Muhli