Parade - An afternoon with Gunilla Palmstierna-Weiss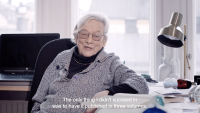 Parade – An afternoon with
Gunilla Palmstierna-Weiss, 2020
HD Video, 56 min
We are at Gunilla Palmstierna-Weiss
home for one afternoon. A question about
Peter Weiss' drawing Parade is the starting
point for this conversation. The drawing
came into being during the post-war
period when Peter Weiss became interested
in reproducing his feeling of freedom
from his childhood through circus motifs.
Ingela Johansson found Parade
in Södertälje municipality's art collection.
She wondered how it was possible that
the piece Parade in the collection was
made and dated after Peter Weiss' death?
The conversation with Gunilla Palmstierna
-Weiss unfolds Parade's various figures
and symbolism, turns into a sliding
conversation about her and Peter Weiss
combined life and practices. To understand
a detail in a painting, one needs to
understand the complexity of Weiss entire
artistry and life path, Gunilla Palmstierna-
Weiss seems to mean as she leads to the
next subject. The video as a whole reproduces
a generous conversation during an
afternoon with topics that flow between
life-death-childhood-loss-risk and
courage.