Voice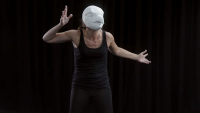 Stillimage, Voice 2020
The inspiration for the work Voice was a drawing by Peter Weiss, Parade (1945) that is part of the art collection of Södertälje municipality. The drawing was part of Peter's extensive solo show in Södertälje konsthall in 1976. In the 80's, after Peter's death, the drawing was copied into a wall décor, an initiative of Södertälje konsthall director at the time, Per Drougge. This was done because Peter once had an intention of creating a monumental work from the drawing, an idea that he later discarded. The wall décor is still found in a cultural center called Allaktivitetshuset in Södertälje.
In the image two nightmarish figures are depicted, one is an eaglelike creature. The title Parade alludes to a gesamtkunstwerk, a collective work by Pablo Picasso, Eric Satie and Jean Cocteau, a Russian ballet with the same title from 1916-17. Peter's Parade consists of 18 figures that portray the idea of a world stage with a theme concerning the dance of death. Peter was inspired by the imagery of Hieronymus Bosch and the evangelist symbols like the lion, the eagle and the ox. I have taken this further by interpreting the drawing and I have had a mask made with inspiration from these nightmarish creatures and surrealism, but with an updated thought that deals with the human relationship to the non-human in the light of the Anthropocene.
The mask is something we can all hide behind, it has always been part of many different cultures and civilizations, used as a tool to keep oral histories alive through allegories. The mask represents the relationship between the inner psyche and outer nature and so on. When I made this work, I also had an interest in exploring and processing forms of materiality from the world of theatre, tinted by the memories of the high-quality childhood plays like "Ika I Rutan" and the puppet theatre productions by Byteatern, playing Henrik Ibsen's Peer Gynt.
In my video Voice the mask is activated by a dancer and there is a tension rising between the nature, the eagle, and the embodiment of the dancer.
HD-Video (16:9)
Duration 09.30 min
Sound
Year 2020
Thanks:
Karin Jemsby, dance
Mats Hjelm, videography
Amanda Cederqvist, maskmaking