In the light and shade of the ornaments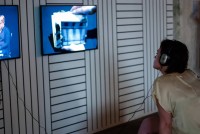 Damage and loss, Alternativa, Gdansk, 2016
Installation: Two-channel video and wallpaper with inspiration from a glass pattern by architect Josef Hoffmann. HD-video, 69 min.
In the light and shade of the ornaments-a rehearsal (2016)
The video artwork is a micro biography of the glass workers from the Sudetenland that were given employment in the glass industry of Småland after the Second World War. The story is constructed like a triptych. There is a reading of two actors taking turns facing each other, and a slideshow in the shape of two hands leafing through a visual material that makes connections to what the actors say. The text and the images are the result of a comprehensive research, consisting of interviews, individual stories from inhabitants in the towns of the glass works and a large amount of archival material.
The work's first chapter tells the story of the voyage and dislocation of the Sudeten Germans from Czechoslovakia to Sweden, and how the workers ended up in the towns of the Swedish glassworks in the aftermath of the Second World War. The narrative elucidates how, and why, this workforce was brought over, and the effect of the migration on both a personal and industrial level, including how the National Labour Market Board and the labour movement organized the new arrivals. In the second chapter, Ingela Johansson turns towards the local context. She looks at how the glass at some Swedish glassworks was inspired by the traditions of the Sudeten Germans, especially the ones originating from northern Bohemia. We are told about what happened to one of the world's last kingdoms of crystal, Bohemia, during and after the Nazi occupation and under Communism. The artist also illustrates how centuries of migrations from central Europe has influenced the Swedish glass industry, a vital element for understanding how the Sudeten Germans were regarded as craftsmen.
The work also reflects the concurrent narrative of the effect of globalisation on local production. Influences from the emerging and increasingly hegemonic Austro-Hungarian cultural centre in Vienna at the end of the nineteenth and beginning of the twentieth centuries spread to Czech provinces, Bohemia, and onwards to the Swedish glass industry. The essayistic narration guides us through these different places, histories and conditions. It moves between the individual level to raise questions regarding national representation and identity, but it also highlights how the destinies of the glass workers were shaped by war and different political systems.
Text by Bengt Olof Johansson.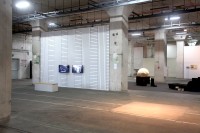 Damage and loss, Alternativa, Gdansk, 2016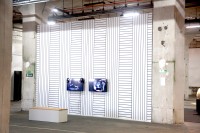 Damage and loss, Alternativa, Gdansk, 2016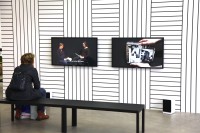 Massa i rörelse, Kalmar Konstmuseum, 2015/2016