What happened with the art of the strike?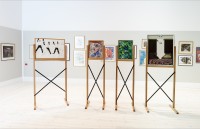 Kiruntopia, Bildmuseet, 2012
Since 2010, I have been working with my investigation "What happened with the art of the strike?" where I have examined The Great Miners' Strike of 1969/70 in Sweden and its relation to the general radicalization of the artistic and cultural landscape in the wake of the 1968 uprising. I have shown "The Miners' Strike Art Collection" at Bildmuseet (2012), Tensta Konsthall (2013), Norrbottens museum (2013) and Kunsthaus Dresden (2014).
In December 1969, a wildcat strike broke out in the iron ore fields in Norrbotten, the far north of Sweden. Despite the fact that it was a record year for Sweden and that the state-owned mining company LKAB made a profit, the working conditions of the miners became worse. The strike spread from Kiruna to Svappavaara and Malmberget and after a few days, involved some 5,000 miners. Through NLF (National Liberation Front/Vietnam) and other local political groups, many people working in culture expressed solidarity with the miners and engaged themselves in their situation. What happened with the art of the strike? is about the wildcat strike–which can be seen as one of the first major cracks in the facade of the welfare state–and the effects it had on the cultural life. The project encompasses various investigations of the strike, and these are materialized in different ways. One is an exhibition of the Gruvarbetarnas strejkkonstsamling (The Miners' Strike Art Collection). The collection consists of some one hundred artworks which were donated by artists in support of the strike fund.
Among the artists who donated work were Albin Amelin, Siri Derkert, Lars Hillersberg, and Berta Hansson. At present, the collection is under the auspices of the municipal Gällivare Museum. The project also contains edited archive material, a series of photographs and dramatizations based on strike documents.
Various social and political groups were active all over Sweden to collect money for the miners' strike fund when they did not get strike support from LO (The Swedish Trade Union Confederation). Several initiatives were taken on by the arts and culture scene to organize art auctions and fundraisers for the strikers including by Sundsvall Museum, Stockholm Concert Hall, Moderna Museet and Gallery Heland. The art works which were shipped to Malmfälten were nevertheless not sold. Instead, after the strike, they were spread out and stored on different premises such as ABF (Workers' Educational Association), Gruv 4:an (4th Mine), and Folkets Hus in Malmberget. Over the years, the collection has been managed by the strike committee members and the local mining union, Gruv 4:an, in Malmberget, but since 2009 it has been stored at Gällivare Museum. The collection is owned by the miners at LKAB.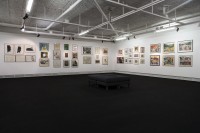 What happened with the art of the strike? Tensta Konsthall, 2013
What happened with the art of the strike? Tensta Konsthall, 2013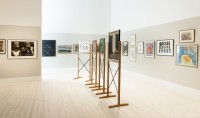 Kirunatopia, Bildmuseet 2012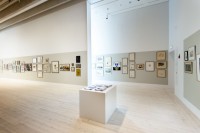 Kirunatopia, Bildmuseet 2012